How I Got Started
The question I probably get asked the most is how I got started. Here is the answer. Warning this is a bit lengthy. Every detail is important because if any one thing did not happen I would not be where I am today. Enjoy the story
My father was a mechanic before I was born. My mom hated the fact that my dad was a mechanic because back then they did not make a lot of money. My father later got a different job but my mom always thought that doing anything with cars was not a good career and quite frankly my mom hated anything with cars. We grew up poor and we did not have a new vehicle so my dad had to do repairs to his old vehicles. He probably changed the engine in the truck 4 times. You would think that is how I got my start but you would be wrong. My mom wanted me to have nothing to do with cars so I never got to see him work. My start came many years later.
The start came when I turned 16. I have a twin sister and we turned 16 at the same time. My parents bought a 1988 Pontiac Firebird for us to share or so I thought. On my 16th birthday I learned that was not the case, and they gave the car to my sister. I got nothing. Because of this I saved every dime I could to buy my first car. I bought my first car, a 1980 Chevy Camaro. It knocked like a diesel and was slow. While working at the local Grocery Store to earn money for my car, I met a man named Roy Rork Jr.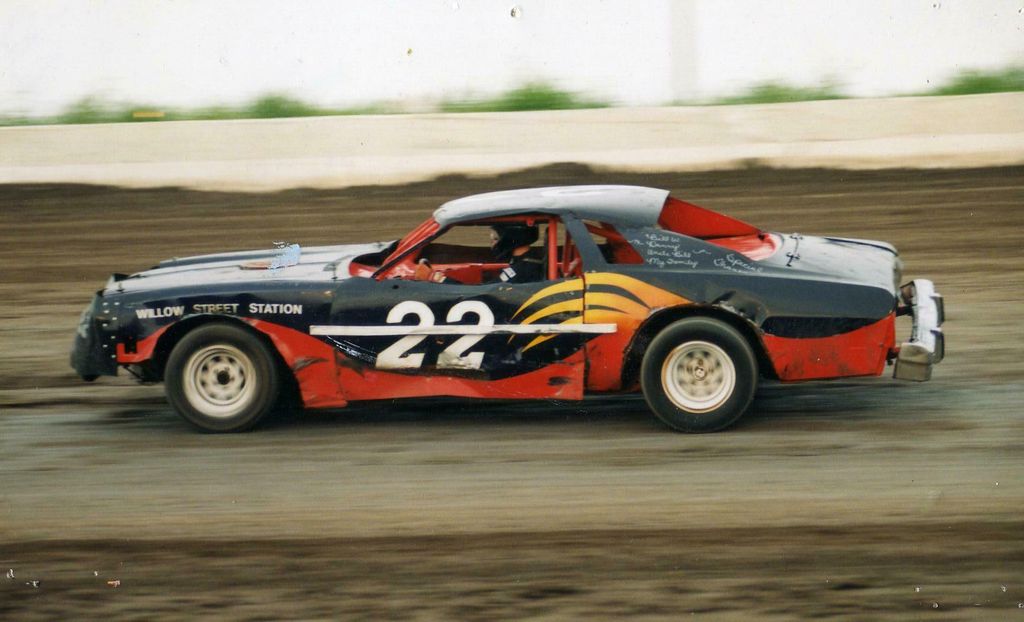 Roy Rork Jr. driving his car.
He had a race car that he raced at the local dirt circle track. I asked him if I could help him on his race car. He willing agreed and I helped whenever I could talk my mom into letting me. Every time he tore up something I learned how to fix it. The only problem is he hardly ever tore up anything envolving the engine. I wanted to know about engines because my Camaro needed motor work. The good thing about Roy is his whole family raced. His dad, Roy Rork Sr., his brother in law Bruce, and his other brother in law Lee Melvin all raced. They were a great team and I loved every minute of working on their cars. However I ended up levitating toward helping Lee the most. He always worked alone and his personality and mine seemed to work well together. I helped all the time. I thought he was a great driver if he just had more money and help he could win more races. I helped him whenever I could. I read every book I could find about small block chevys, engine repair, chassis setup, and every other thing related to cars. Lee was great he let me try different ideas on the engine and car setup. Some worked and some did not. I learned so much.
Lee Melvin and I before a race.
Everything was going well but I was getting ready to graduate from High School. I really wanted to go to the School of Automotive Machinist in Houston, Texas but it cost $10,000 a year and with my twin sister and me going to college at the same time their was no way for my parents to help pay for that, besides my mom wanted me to have nothing to do with cars. My mom gave me the nickname "Dadie's Little Grease Monkey" which she often made fun of me with. Instead of going to school to build race engines, I went to Southwestern Oklahoma State University to be an Elementary School teacher. I graduated in 2003 with a Bachelor of Science degree in Elementary Education. My college was 2 hours away from the race track so it was very hard to go help Lee and the rest of the Rork family. So in order to get my fix from working on cars I started working on my Camaro almost constantly.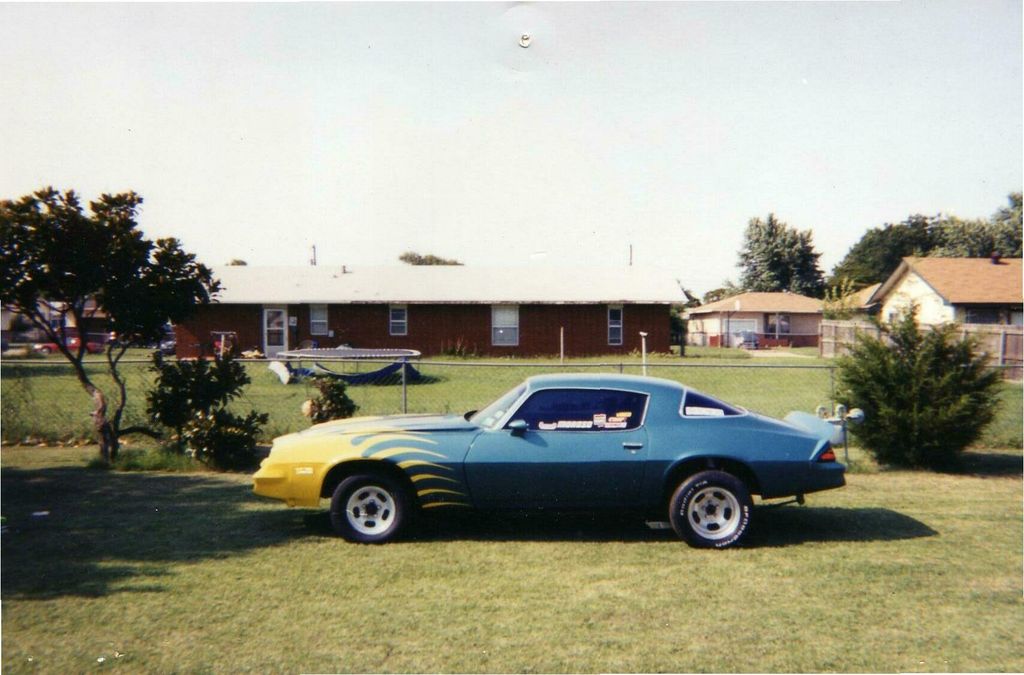 My Camaro in College.
When I got my Camaro it had a 283 sbc. In one year I changed the motor in the Camaro 6 times. This was a car I drove every day. Almost all of the times I changed the motor was to make it better. My mom would always say to me "can't you ever leave good enough alone" I could but that is how you lose not win. With all of the changes I learned about which things work and even more about the ones that do not. One of those things I learned is porting heads. My first set of heads I ported were old 882 sbc heads. My dad gave me a Black and Decker hand drill and a stone and said open up the head until the stone can go through. I burned up the drill and ported into a water pocket. The head ended up looking bad but performed pretty good.
While in college I did get a chance to finally drive a dirt track car but I was horrible at it. I constantly had problems with the car and I did not get a good chance to learn how to race on dirt. However I still had fun. I think I would do a lot better now.
My Father and I after my last race in this car.
It turns out it is easier to work on a car than drive it.
Things changed after I graduated from college almost everybody I knew had quit racing. It really makes you miss the past. I did get involved with another race car driver named John Herring. He was a great race car driver and did a lot of different things that other people did not do and I learned even more. We did very well and had a lot of fun doing it. Eventually I wanted to try racing on my own again but I wanted to try drag racing for two reasons. One you don't have to keep working on wreak damage and the second reasons is the mechanic plays a more important role. I started turning my street Camaro into a drag car. The problem with drag racing is the drag strip was two hours away. I ended up moving to Broken Arrow, Oklahoma to be closer to the Tulsa Drag strip and other reasons.
Current Picture of my 1980 Camaro.
Things stayed pretty consistent I would work on others stuff and my stuff until I heard about the Jeg's Engine Masters Challenge. I thought it would be neat to see how I would stack up to other engine builders. I applied for the challenge but I did not expect to get in because I am not as well known as the other competitors and engine building is not my full time job. I did not get in but I was the 5th alternate. I decided to build an engine with most of the parts I had and only buy a few pieces because their was no guarantee I would get to compete. I shipped the engine to the contest and got a call three days before the start of the competition that I would get to compete. I did not think I had a chance because the engine was not that good and I did not work very hard on the engine. I was surprised that I finished 19th out of 30.
2007 Engine Masters Challenge Engine.
I learned so much at the contest so I wanted to try again. I bought a flowbench to help with my porting and spent almost everyday for 6 months trying different things seeing what I could learn. I used this knowledge for the 08 Challenge. I tried very hard on this engine and was somewhat disappointed with a 13th place position. However I made dramatic improvement over the previous year.
2008 Engine Master Challenge Engine
So to answer the question how did I get started. I have read enough books and magazine about horsepower to fill a library. I have enough metal splinters from grinding on cylinders to set off metal detectors. I have never settled for good enough and that has got me were I am today. I have also had some special people that have helped me along the way. Here is a small list:
My Dad
My Mom
My Wife
My Son
Roy Rork Jr.
Roy Rork Sr.
Janice Rork
Lee Melvin
Tangy Melvin
John Herring
Gary Dunsworth
Popeye
The Rork Family
The Melvin Family
The Herring Family